When you're trying to get new people to buy from an online store it's kind of like feeling them out for a first date; when you finally convert a new customer you've got the date, now it's time to make it a good one!
Our company has been selling products online for years, but we've never had an attractive onboarding system.  When people browse our site they get a great impression – the site is attractive, has tons of free content available, and lots of information about the products, processes, and industries we serve.  Unfortunately once people made an online purchase they got a very different impression, mostly that we were stuck about 15 years in the past.
Our onboarding process for online shoppers was pretty ugly, and consisted of one, text-only confirmation email with the order details, and no useful links or other information.  It was the kind of email that said, "thank you for purchasing, goodbye."  As a result of not trying to help customers keep buying from us, and instead moving on as though everything about their experience had been perfect, we had horrible repeat-buyer levels – only 10% of people that bought on the web for their first purchase came back.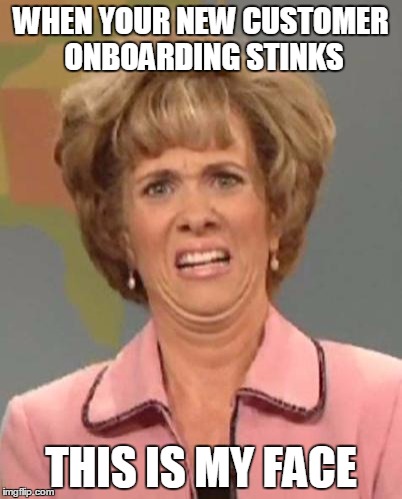 After taking the RPM courses through Eloqua we realized as a group that we were missing out on a huge opportunity to nurture customers who had already established a relationship with us by purchasing once.  We set out to make the onboarding process better by making the emails more attractive and useful, and by trying to stay engaged with customers post-purchase.
To really count our efforts as a success we wanted to see an increase in 2nd time buyers and an increase in web traffic on the site from returning customers.  Our 2nd time buyers rate was low to start – only about 10% - we wanted to bring that to 20% within the first year; web traffic wasn't that bad, we wanted to increase from roughly 21% return customers being engaged to 30% of return customers being engaged with us online.
We did 3 main things to accomplish our goals, the first thing was to turn the 1 plain email into 3 attractive, branded emails with images.  Instead of our order processing team sending a plain text email with the order details, we had them fill out a new Eloqua form with the purchase info which triggered all the emails.  The emails hit 3 main points:
The first email delivers order information with links to customer service, finding their sales rep, and viewing their online account details
The second email welcomes them as a customer and provides links to technical articles, advanced search   pages, promotions, and a link to our subscription center
The third email comes 2 weeks later and checks in that their order arrived, and links to customer service in case anything was wrong, as well as linking to the products they ordered and products that customers who purchased those items also purchased
The second main thing we did in addition to improving the onboarding emails was to add people to new customer programs.  We entered them in nurturing/promo campaigns where they would get discounts for 3 months to a year after their first purchase.  We wanted to make their first purchase better, and give them an active incentive to keep making purchases.
Our final onboarding improvement was to add all new customers to a delayed subscription center campaign if they didn't update their profile after the initial purchase emails. Essentially we checked in with them after 6 months to say, "Hey we want to keep working with you!  If you tell us what you're interested in we can provide some good content!"
We changed the onboarding process from 1 email into 3, and better utilized programs we already had in place, re-directed at new customers, and ended up improving the customer experience dramatically.  Instead of taking them on one date and dropping them off at the curb, we gave them our numbers and contact info, told them we'd call again, and then we called trying to set up another date!
The results have been pretty fantastic – in the last year our 2nd time purchasers have gone from 10.4% customers return to 22.1% of customers return.  That has had a big impact on our numbers this year, but the best part is looking forward to keeping that business in the future, while also building it by continuing to onboard new customers with our new system.  Not only has our customer retention gotten better, but our customer engagement has jumped to nearly 40% from 21% - well above our starting goal.  So we haven't gotten every customer to buy again, but we've gotten a lot more to buy again, and even more than that ened with us online, where we have the opportunity to keep nurturing them and convert them in the future.
We plan to keep improving our processes by tailoring content more to the industries of the customers, and to recommend more content and products based on their purchases, but so far we're happy with our progress.
So remember, if you want customers that keep coming back for more, make that first experience with them enjoyable and helpful, and you're likely to get a second look or two!
Courses that were helpful with this project:
RPM series
Best Practices: Responsive Design
Best Practices: Advanced Lead Nurturing
Custom Subscription Management
Personalizing Campaigns
Advanced Editing & Form Processing
Insight for Reporters