Categories
3.4K

Industry Applications

537.2K

On-Premises Infrastructure
Remote Access Update API
The Remote Access API is also known as the Members NIC Update API or DNS Update API and is used to update the IP addresses of dynamic DNS hostnames. In the late 1990s, Dyn designed and created the specification, which has become the standard update mechanism for other DNS providers.
Dyn encourages the development of update clients to work with our Dynamic DNS services. Many companies and developers need tight integration with a Dynamic DNS service or seek a turn-key Dynamic DNS backend. The API works over HTTP and HTTPS.
Remote Access API Specifications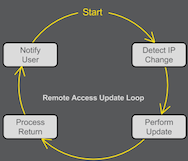 CheckIP Tool
As this update mechanism has been integrated into numerous products, any changes to the API will be completely backwards compatible.