Forum Stats

3,675,584

Users

11,575

Discussions

18,510

Comments
Discussions
The 7 Steps to Eloqua Implementation Success
Jason Hudson Bennett
Posts: 1
Our strategic initiative was to provide an efficient Global Project Methodology and an adaptable Industry Specific Implementation Framework to support eight Global Business Units in rolling-out Oracle's Marketing Automation Tool, Eloqua.
The Challenge for 2017 was to implementation Eloqua in 8 business units globally spread over Asia, Middle East and Europe in 2017.

The Business Goals
A summary of the high-level business goals set to be addressed by the programme follow:
Increased capabilities in lead generation, nurturing and conversion
Improved alignment and effectiveness of Sales and Marketing
Improved skills and experience in customer journey design 
Improved consistency and standardisation for best practice sharing
Increased intelligence on customer behaviour and engagement
Improved customer experience from behaviour based messaging
Improved campaign optimisation and effectiveness
The business goals are documented in a full and detailed SMART business case, which was approved by the programme steering committee.
The Global Approach
Step 1: Global Terms.  The first task, prior to commencing implementation was the consolidation of a set of global terms and policies.  These were developed with BUs so that Sales and Marketing could establish a common language and business approach.
Step 2: Global Campaigns.  With this foundation in place, a set of Global Marketing campaigns were designed with the BUs, IT and Oracle.  In total, 25 global campaign designs across the Customer Journey were produced, which would enable collective company-wide implementation, reporting and refinement of campaign performance.  The below graphic shows an overview of the assets/materials produced as part of the above two steps:
Step 3: Global Data Layer.  With the global terms and the campaign designs established, we set about designing a Global Data Layer that would support the associated data and segmentation requirements and that would provide a data integration gateway.  This involved the development of nine Custom Data Objects (CDOs) to support the business needs for multiple Events per contact.
Step 4: Global Implementation Framework.  With the designs in place, we needed a repeatable Implementation Framework.  This consisted of documented templates and guidance on Organisational Change, Best Practices, Education, set up of Eloqua Campaigns, Assets, Data layer, Integrations and a menu of Oracle/Partner Implementation Services to support the BU's with the implementation work.  The below graphic shows an overview of the interrelated nature of data integrations through to campaign executions (1-7), below that is a summary of the related Implementation Framework assets/materials (A-F):
Step 5: Global Implementation Methodology.  Finally, before implementation could commence and with the designs and framework ready for use, a repeatable Project Methodology was required to provide BU's with templates and guidance on project governance, planning, prerequisites, roles & responsibilities and lessons learnt.  The below graphic shows an overview of the project approach:
Step 6: Local Project Scope.  The initial implementation goal for each Business Unit was to rollout a reduced set of the globally standardized campaigns, making use of the globally standardized data layer, using industry specific Custom Data Objects for a single pilot event – the recommended Global campaigns for the pilot projects were:
Visitor Awareness Campaign

Visitor Acquisition Campaign

Visitor Retention Campaign
Step 7: Local Project Support.  Throughout all stages of the projects, the Business Units would receive the Central Programme Team's guidance with on-site/remote hands-on support as well as access to Oracle services, the Oracle University Marketing Cloud and the Topliners community.   BUs recieved documentation and guidance; related to modern marketing, marketing automation, organizational change as well as data layer design, configuration, integration mapping and set-up and testing of the global campaigns and asset configuration in Eloqua.
What have we learned
In terms of lessons learnt, we have conducted regular review of KPI's and Campaign performances along with periodic post-project implementation reviews.   These learnings are regularly shared with the global BU network i.e. through internal BI-Weekly Super User group meetings, which are attended by two Super Users from each of the 8 BU's.
The key implementation learning is to ramp up slowly, understanding the required organizational/process changes and through training and design project stages learn and plan carefully how you will transition to Eloqua.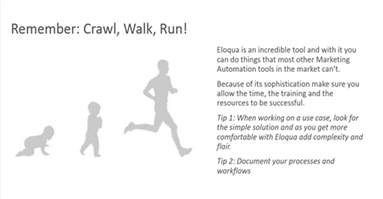 Our top 10 Lessons Learnt:
Campaign manager needs to have skills in marketing and technical
Project members allocated to the project – backfill BAU
Need full support of local IT– backfill BAU
Engage all stakeholders up front on the campaign process
Candidate Events for Eloqua – willing/receptive, capable, supportive
Training must be undertaken as a priority
Pilot should only be one event with rollout one by one
Project planning should start from Registration open date (Visitors)
Add a project buffer to deal with unexpected systems/data challenges
Start with global campaigns and basic segments – optimise from there 
The global implementation of Eloqua was on separate instances per BU.   This solution design was taken rather than a single instance of Eloqua as a result of an evaluation with Oracle based on the need for global process consolidation, the need for a single global view and considerations related to implementation and operational complexity.  This approach enabled flexibility and resulted in accelerated implementations of Eloqua. 
It is to be noted that there are data volume limits for CDO's that will need to be considered as part of initial design evaluations.
Campaign Performance (Work in progress)
In 2018, the programme shifts focus from Eloqua implementation projects to Eloqua optimisation projects.
For each of the Business Unit's campaigns, a number of KPI's were benchmarked in 2017 i.e. from data available prior to Eloqua and then from Eloqua every 2 weeks after launch.  Each of the BU implementations are now live and in the process of launching Campaigns for the pilot events.  It is therefore planned that in the first quarter of 2018 during the post-pilot event Eloqua Optimisation phase; Campaign Performance and statistics will be available in the following KPI categories:
Bouncebak rate (Hard and Soft)

Unique Click Through Rate(CTR)

Unique Open rate (OR)

Unique Click to Open Rate(CTOR)

Conversion Rate

Unsubscribe Rate
As an example, early results show that for one of the Business Units we are seeing Unique Open Rates for Acquisition and Awareness Campaigns growing by 13% whilst at the
same time delivering more personalised and targeted segmentation, resulting in a reduction in the number of emails sent by 50%.
Oracle University Marketing Cloud Courses
One of the project implementation prerequisites for each BU was for all the nominated Super Users to complete the B2B Masters Accreditation in 2017. B2B Master Requirements
For the BU Super Users with technical responsibilities, a technical training path was established, which included completing certain B2B Luminary courses e.g. Database Configurations, Custom Data Objects and Integrations.
A 2018 Eloqua business optimisation objective is for each BU nominated Super User to complete the B2B Luminary Accreditation. B2B Luminary requirements
The Oracle academy course of most relevance during 2017 were as follows:
Post edited by Unknown User on
Tagged: