Forum Stats

3,675,648

Users

11,618

Discussions

18,540

Comments
Discussions
How an invisible process makes a visible impact in CRM Integrations
Jeralyn Maturan
Posts: 2
Nobody wants to do repetitive tasks on their daily jobs or when everytime the company has an update over something. It's a waste of time, and as much as possible, we want to maximize the tools we use in its greatest potential and let it help us to our jobs.
Recently, our company has migrated from Oracle CRM onDemand to Oracle Sales Cloud. I, myself, personally don't have a visibility on that, since there is a separate team who handles our CRM. What we're assigned to do is to make sure that our leads are being integrated properly on our CRM system. Part of that is making sure that the required fields for CRM system are properly filled out. Since the migration, our team are being challenged because the backend values we've known have changed. But luckily, most of the front-end values are still the same as before.
So, what's the challenge?
Our challenge was:
To UPDATE all our Lead Source value fields (Lead Source Original & Lead Source Most Recent) with the updated values from our picklist
To add a new hidden field: OSC Lead Primary product in all our forms and match it with the correct values from our recently updated picklist
Update all our created forms with these new values, either created in Easy Editor or in HTML
And since my job role has a few restrictions with our Eloqua instance, we must do all of these modifications manually.
Without us doing these changes, there is a greater risk and a possibility that our leads are just there in our system... sitting down, with no sales rep to follow up on them. And we don't want a missed opportunity for the business, right?
That 'AHA!' moment
While taking up the Luminary course trainings, I took notes and thought of ways on how I can apply this knowledge so that we can automate all these updates without the hassle of editing all our created fields, one by one. Given the access limitations I have in our Eloqua Instance, I can't use the Program canvas. So, I tried updating these forms using the Form Update Rules. I tried testing it first in one of my forms created, did some test submissions, and luckily it worked!
The Data Cleansing course in Luminary is what greatly influenced me to do this initiative. The goal is to update the fields with the appropriate values without the need to use restricted tools.
How?
In the Orchestration menu, click on the Contacts > Tools > Form Update Rules. Then click New on the top right corner.
Update Rule Set Name: Name of the update rule you'll be using in your forms
Entity Type: It's either Contacts, Accounts/Companies, or Custom Object. Choose where you want to execute this rule.
Data Field: Data field/s you would like to use as an identifier. For this example, I'll use Email Address.
After adding all rules you need, click Save on the lower right part of the screen.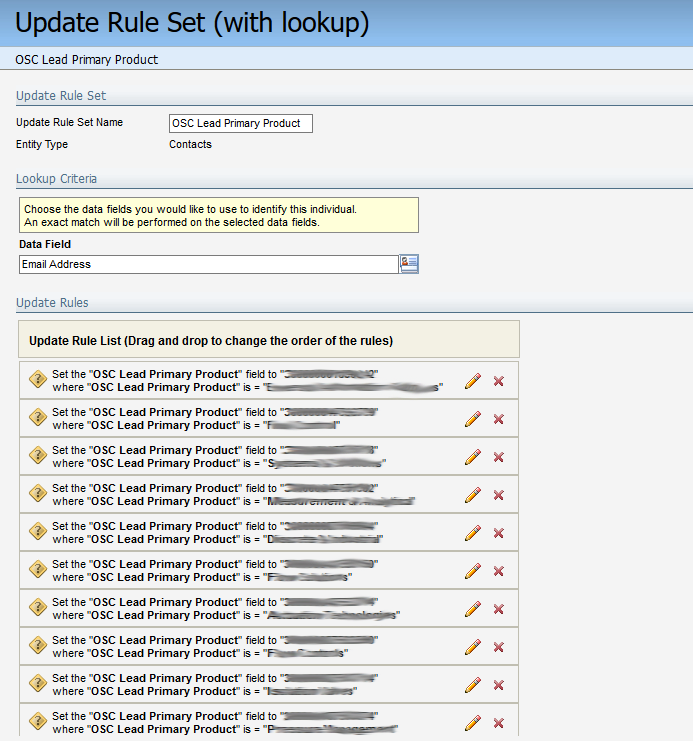 In our old CRM system, both front and back-end have the same value, but now that we migrated to a new system, backend values have changed to numeric values. Hence, we have to look at our data dictionary everytime we create form fields. But with this Form Update Rules, we can just simply input all the correct backend values, map it with the current frontend values and add it to a form processing step.
To add this Update Rule in your form processing step, click on the + button on the Processing step, and choose Update Contacts - With Custom Values
Click the Apply Shared Update Rule button, choose the update rule you recently created from the dropdown list, and click the Apply button. You may also modify this condition to execute Always or Conditionally. Save your form, add it on a landing page and test submit if the hidden field value you added on your form field successfully mapped in your contact database.
What's in it for us?
Although we don't have a full visibility on how CRM system works, it is still important for us to make sure that from our side, we do it right. When we pass correctly the data from our ELQ instance to CRM, we are making sure that the leads we get will not be put in to waste and they can be followed-up by the right people, at the right time, depending on their buyer's journey.
Moving forward...
Moving forward, I will be working with my team and collaborate with them for us to make this process more automated. Since I am still learning and testing all the capabilities Eloqua has to offer (...and learning should be a continuous process, right? ), this is just a stepping stone in making our process easier and with less human error. Moving forward, we'll also make sure that we use these tools to normalize and clean our data, for a more successful campaign with higher ROI!
Tagged: