Oracle Eloqua 20A (February 2020): Customer Release Briefing
edited Apr 29, 2022 6:27AM
in Eloqua
For more about Eloqua's Releases, be sure to visit the: Oracle Eloqua Release Center  (and follow it for ongoing updates!)
Oracle Eloqua 20A Release Highlights
Account Engagement Dashboard - Visualize marketing metrics by account rather than leads, channel, or product.
Marketing Operations Center - Readily identify potential system issues and receive guidance to take corrective actions.
HTML to go - Now export the responsive HTML from Eloqua's email and landing page Design Editors (Controlled Availability)
Updates to Facebook Lead Ads App - Field mapping support for questionnaires, multi-page forms and more
Datafox Integration - Bringing account data enrichment for Marketing and Sales execution into Eloqua (Controlled Availability) [requires a subscription to Datafox]
By Popular Request - "Recently Accessed By Me" and "Recently Modified" options have been restored in the Emails, Landing Pages and Forms areas.
And so much more!
REMINDER: With the arrival of the Eloqua 20A release (Feb 2020), the ability to create or copy new Classic forms will be removed. When creating a new form, by default it will be created in the new Form Design Editor. Rest assured, if you open a form created in the Classic editor, you will still be able to edit the design and the processing steps. For detailed information, please visit our Product Notice: https://community.oracle.com/docs/DOC-1031108
Review the Complete List of 20A Release Enhancements

Oracle Eloqua 20A
Find your timezone - https://www.worldtimebuddy.com

| POD | Update Start | Update End |
| --- | --- | --- |
| POD1 | Fri, Feb 14, 2020 (10:00 pm ET) | Sat Feb 15, 2020 (7:00 am ET) |
| POD2 | Fri, Feb 14, 2020 (10:00 pm ET) | Sat Feb 15, 2020 (7:00 am ET) |
| POD3 | Fri Feb 21, 2020 (10:00 pm ET) | Sat Feb 22, 2020 (7:00 am ET) |
| POD4 | Fri Feb 21, 2020 (10:00 pm ET) | Sat Feb 22, 2020 (7:00 am ET) |
| POD6 | Fri Feb 21 2020 (9:00 pm UTC) | Sat Feb 22, 2020 (6:00 am UTC) |
| POD7 | Fri Feb 14, 2020 (12:00am AET) | Fri Feb 14, 2020 (9:00am AET) |
All dates are subject to change.
Learn how to find your POD. Bookmark your calendar with future tentative dates here.
Need more info? Watch the Release Briefing Video below
New Account Engagement Dashboard Overview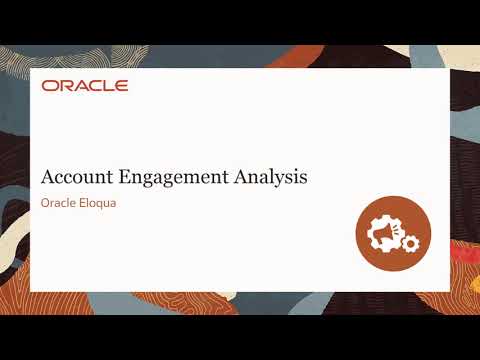 Additional Resources
Have questions about these release items? Feel free to post them below, and the Eloqua Product Team will chime in.
Group Product Manager, CX - Marketing: Eloqua
Post edited by OIT Integration User on
Comments