Interactive Dashboards: My Dashboard
I've received several questions about whether it is possible to customize the content of the Analytics Dashboard/Home page of Interactive Dashboards. You can certainly customize and save your view of the analyses on that dashboard, but you cannot change which reports are displayed. If you truly want to design your own dashboard, you can do that using "My Dashboard" - and you don't need the Interactive Dashboards Plus functionality to do it!
The screenshots are showing up quite small here, so remember you can always click on an image to expand it in order to see more detail.
Start by going to the Dashboard menu in the top right corner and select "My Dashboard".
You'll be shown a blank page and prompted to edit the dashboard to add content, which you can do using the hyperlinked Edit in the center or the gear menu in the top right.
The editing canvas is pretty straightforward - on the left you have Dashboard Options to format and the Catalog to add content.
You just need to drag and drop from the left-hand menu onto the canvas. Under the Catalog menu for each communication channel, there is a folder called Prompts, with options of prompts which you can add to your dashboard. Here I have added the basic Email Prompt and the Campaign Performance Report to my canvas. You can add any of the standard reports, or any custom reports you have in your folder or the company shared folder.
Using the Dashboard Options, you can add sections and columns to format your reports - here I've added some more reports, including my KPI analysis, and columns.
You can always Preview your Dashboard using the button in the top right - but note that you won't have the prompt functionality when you just preview it. When you're satisfied, you can save the Dashboard.
You can also see in the image above, the first two icons allow you to add a page or delete a page from My Dashboard.
Once saved, you can view the final result using the Dashboards menu. Here you can see my prompts, KPI, three graphs and my table report.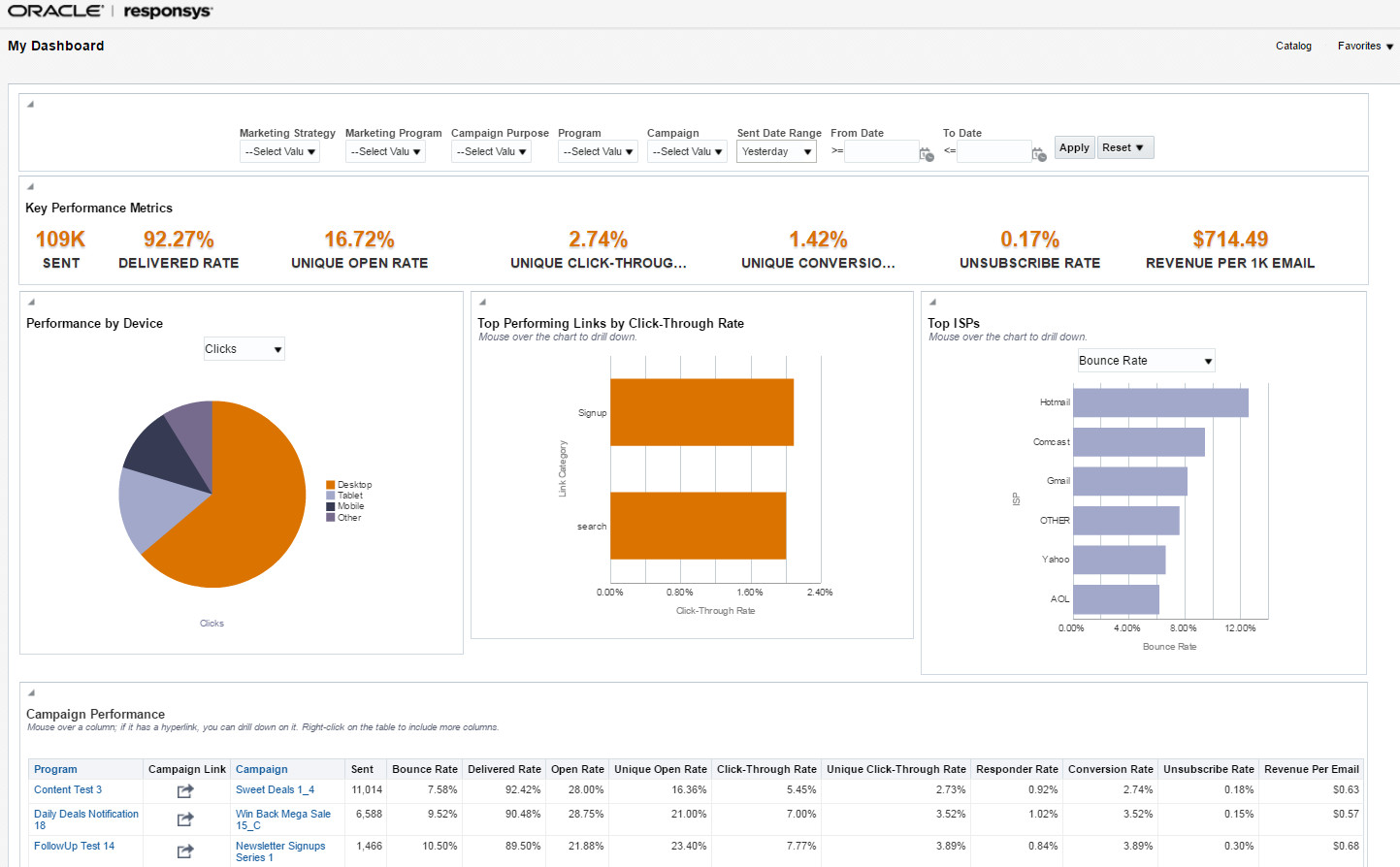 You cannot set this dashboard as your home page, but you can add it to your Favorites menu so it is very quick to find.
Then you only need to select your dashboard from the menu.
I hope this is useful for all of you Interactive Dashboard explorers!
Post edited by OIT Integration User on
Tagged:
Comments