Insight (OBIEE) Tips | Commonly used SQL expressions
edited May 6, 2022 1:55PM
in Eloqua
This document outlines some useful Insight expressions that we find our clients using. These are just examples and can used in many different situations.
Date expression:
This helps users filter based on dynamic dates.
Example: If you want to see all Email Unsubscribes in the past 90 days, you would
Create a filter on Email Unsubscribe Date
Choose the operator "is greater than"
From the "Add More Options" drop down, select SQL Expression
A SQL Expression text box would appear
Enter the expression TIMESTAMPADD(SQL_TSI_DAY, -90, CURRENT_DATE) then click OK
The syntax of this SQL expression is TIMESTAMPADD(interval, count, timestamp)
TIMESTAMPADD: Returns the timestamp calculated by adding count intervals of type interval to timestamp
Specified intervals can be:

SQL_TSI_FRAC_SECOND
SQL_TSI_SECOND
SQL_TSI_MINUTE
SQL_TSI_HOUR
SQL_TSI_DAY
SQL_TSI_WEEK
SQL_TSI_MONTH
SQL_TSI_QUARTER
SQL_TSI_YEAR

Count: An expression that adds up to an integer.
Timestamp: Any expression that evaluates to a valid timestamp.
Another examples
First day of current month:
TIMESTAMPADD(SQL_TSI_DAY, -DAYOFMONTH(CURRENT_DATE) +1 , CURRENT_DATE)
First day of month, 12 moths ago:
TIMESTAMPADD(SQL_TSI_MONTH, -12, TIMESTAMPADD(SQL_TSI_DAY, -DAYOFMONTH(CURRENT_DATE) + 1 , CURRENT_DATE))
CAST function:
Returns the value of an expression converted to a specified data type.
Expression:
CAST(expression AS datatype)
Example:
Changing a date to a string:
CAST(Email Unsubscribe Date AS CHAR)
This converts the date "4/1/2018 10:00:00 PM" into text "Apr 1 2018 10:00PM".
Changing Boolean to true of false:
CAST(Opt-In field AS CHAR)
Ensure that you are using compatible data types as not all are compatible, please refer to:
https://docs.oracle.com/javadb/10.8.3.0/ref/rrefsqlj33562.html
RSUM function:
This function calculates the running sum based on records encountered so far.
Expression:
RSUM(numExpr)
NumExpr is any expression that evaluates to a numeric value.
Example/Use case:
If you are in the process of IP warming and want to keep track of bouncebacks on a daily basis. You would modify the report Email Bounceback Overview. Make sure that the Bounceback back date is sorted in an ascending fashion. Then add another Total Bouncebacks column and edit its formula:
Click the function button:
Then select Functions>Running Aggregate>RSUM.
Notice the expression now becomes:
RSUM("Metrics"."Total Bouncebacks")
This column will give you the running sum of your total bouncebacks day by day: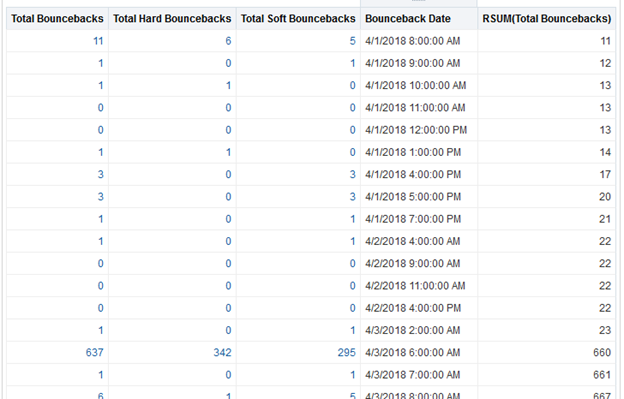 If you would like to see when you have had a certain number of bouncebacks in a campaign, this report using the RSUM function would be useful.
I hope this helps, Let me know if you have any questions in the comments.
SamE.
Post edited by JodyMooney-Oracle on
Comments